Now National Distributor for Pro-Line Safety Products
I am thrilled to announce that Linc Energy Systems is now the national master distributor of Pro-Line tracer wire. The copper-clad steel (CCS) tracer wire is ideal for open trench and directional drilling applications.
Pro-Line Safety Colorado and National Distributors

As a distributor and representative, it is always our interest to bring our customers the highest quality products at the best price. For this reason, we have selected Pro-Line tracer wire as one of our national product offerings. We stock the product at our Wheat Ridge Colorado warehouse and can ship any place in the continental United States.
Underground Tracer Wire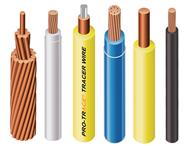 Pro-Line manufactures tracer wire for utility line locating. Their products identify and protect underground utilities from accidental digging accidents. The company began in 1992 as a sales and marketing business in West Chicago Illinois. Today, Pro-Line Safety Products is a manufacturer with worldwide distribution and the largest maker of underground tracer wire with over 11 distinct products aimed to meet the needs of the challenging utility market.
We currently have in stock PRO-TRACE, Pro-Line Safety Products newest line of copper-clad steel (CCS) locating wire. It is a highly flexible copper-clad steel wire that is ideal for open trench applications and directional drilling. The offerings are:
More information on Pro-Line Safety Products is on our manufacturers' page.
What is Tracer or Locating Wire?
Tracer wire, also known as locator wire or locating wire, assists in locating pipes and other utilities after they have been buried. During pipeline installation, once the pipe is laid, tracer wire is set alongside the facility and buried beside it. A line locator or wire tracer can be later used to locate the pipe.