Measuring Flare Gas Flow Using Thermal Mass Flow Meters
Sage Metering released a white paper discussing an improved method for measuring flare gas flow using thermal mass flow meters. The paper explores flow meter challenges and using thermal flow meters in biogas, landfill gas, and natural gas and even discusses refineries and chemical plants.
Flare Gas Measurement Challenges
Thermal mass flow meters have been touted as an effective instrument to measure flare gas to comply with environmental regulations. Most manufacturers do not point out the inherent challenges with measuring flare gas. Flare gas measurement is one of the most challenging flow measurement applications. One point of the Sage white paper, "Flare Gas Measurement Using Thermal Mass Flow Meters," is that thermal mass flowmeters are inappropriate in all flare applications.
The paper explores the inherent challenges one needs to overcome when measuring flare gas. Those challenges range from varying gas composition, hydrogen, extreme flow rate variation, the demands to meet environmental calibration and accuracy regulations, requirements for hazardous location classification, and others.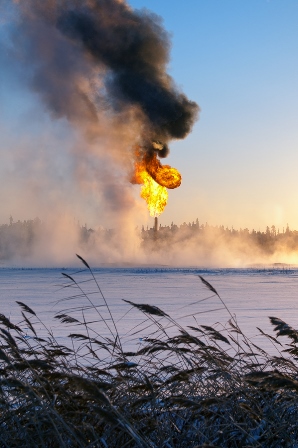 The Sage paper doesn't suggest that the thermal mass flow meter is the end-all and best method for measuring flare gas. In fact, in some applications, such as emission measurement at oil refineries and chemical plants, it suggests that thermal meters are not practical because of the extreme variations in gas composition. However, they indicate that thermal meters can detect which operation sends the flow to the flare in these facilities.
Flare Measurement of Landfill Gas, Biogas, and Natural Gas
The new white paper discusses how in some flare measurement applications, such as landfill gas, biogas, natural gas, using thermal flow meters is an effective method and can save thousands of dollars versus the traditional approach with ultrasonic meters. The paper discusses other applications, including natural gas processing and production, offshore platforms, crude oil extraction, and atmospheric storage tanks.
New Engineering Approach with Sage Thermal Mass Flow Meters
Sage also offers a unique approach in their paper for using thermal mass meters to measure flare gas flow applications at refineries and chemical plants when the gas composition is known.
This paper discusses the challenges associated with flare gas measurement and clearly outlines applications where thermal flow meters can perform well while simultaneously saving the operator substantial expenses.
To read the free Sage Metering white paper, visit Flare Gas Measurement Using Thermal Mass Flow Meters.
Alternatively, if you are interested in using thermal mass flow meters in various applications, check out this free eBook by Sage Metering.
Manufacturer's Representative and Distributor for Sage Metering



Linc Energy is a manufacturer's representative and distributor for Sage Metering.

Image by jplenio from Pixabay