Inventor beats his patent on insulating flanges
In a recent blog, I announced that we are now representing Reliable Manufacturing Company, the manufacturer of prefabricated meter sets and manifolds. While I mentioned that the general manager of the company is a pioneer in the industry, I hadn't revealed that Larry Snodgrass has been the inventor of a number of breakthroughs, including creating a process of insulating flanges.
Reliable Insulating Flanges
Snodgrass, now at Reliable Manufacturing, continues to improve the way natural gas meter sets, meter manifolds, meters stations, meter bends, meter adapters are manufactured. One of Reliable's manufacturing steps includes a proprietary multi-stage E-Coating process. E-coating, or electron-deposition coating, has been independently tested and reveals that the E-coat process, when primed and painted, outperforms zinc plating and powder coating in corrosion resistance. This means that Reliable Manufacturing's products resist corrosion longer than other competitive manufacturers.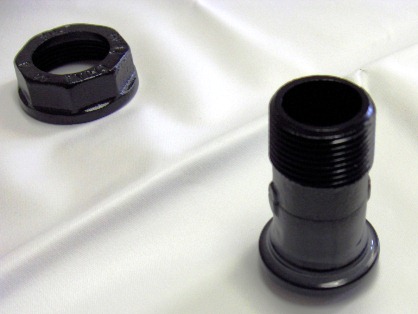 Reliable insulated 20 LT straight swivel
Earlier in Snodgrass' career, he invented a process of creating a Nylon 6-6 insulated flange on a pipe. That process is still being used today by competitors. Now Snodgrass has developed a method to insulate flanges using hard nylon (unlike nylon 6-6) which creates an insulation barrier over the E-coating. The nylon, developed by the automotive industry, is plenty strong enough for this application. The resulting process allows Reliable Manufacturing to insulate flanges, offset swivels, bends, or any other meter set hardware.
Aside from the multi-stage E-coat process, Reliable Manufacturing uses a five-step process; however, they can skip the last two steps should the customer desire to paint the products themselves. Their process is:
Clean
E-coat
Insulate
Prime (optional)
Paint (optional)
Snodgrass says, "Our insulated products are better and we're likely to be less expensive."
If you'd like to learn more about Reliable Manufacturing click Fabricated Steel Meter Hardware on our product page, email us or call 303 – 697-6701.