Gas Pressure Regulator | HON 5020 by Honeywell
Linc Energy Systems is now an authorized distributor for the Honeywell high-pressure regulator, the HON 5020 (formerly the RMG 5020).
HON 5020 Gas Pressure Regulator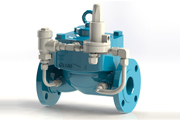 The HON 5020 gas pressure regulator by Honeywell provides accurate and reliable pressure reduction over a broad range of gas industry applications. This regulator improves upon current technologies with its precision grid plate design, flexible flow options, wide operational pressure range, and smooth in-line service and maintenance capability.
Pilot-operated gas regulators must ensure reliability in gas distribution systems, gas-fired power plants, processing facilities, and commercial and industrial gas service. The HON 5020 provides gas pressure reduction service in municipal distribution, gas transmission, and industrial power plant applications. The regulator features an advanced external pilot process for safe and accurate control of outlet pressure.
In fuel gas and commercial/industrial service applications, the HON 5020 regulator ensures a desired reduced outlet pressure while providing the required flow to fulfill downstream demand. The regulator is rugged and dependable and provides smooth and reliable operation, tight shutoff, also long life.
Among the benefits of the HON 5020 include:
Simplified design for extended service life
Few moving parts
High sensitivity and accuracy
Precise control of set outlet pressure
Handles flow rate variations
Minimal maintenance requirements
Low differential pressure requirements
For more information on this new offering, visit HON 5020, or request a quote now.