Gas Line Tracer Wire for HDD and Open Trench Installations
Here are our recommendations for the best tracer gas line tracer wire for HDD and Open Trench Installationswire for open trench and horizontal directional drilling (HDD) gas line installations.
Gas Line Tracer Wire
Tracer wire makes PE or polyethylene pipe traceable. The wire is installed alongside the gas pipeline.
Open Trench Installations
For open trench applications, we recommend PRO-TRACE HF-CCS PE30 which has the memory, flexibility, and feel of traditional copper wire but offers the added benefits of metallurgically bonded copper-clad steel wire. The tracer wire is stronger than copper wire with a 43% higher break load which helps minimize damage during installation. PRO-TRACE HF-CCS PE30 is also equal in signal strength, and corrosion resistance to the copper wire yet is less expensive. At the center of this wire is a low carbon steel core with a bonded copper cladding protected by a 30 mil HDPE insulation that is direct burial rated. It is a user-friendly wire with no recoil. The PRO-TRACE HF-CCS is also available with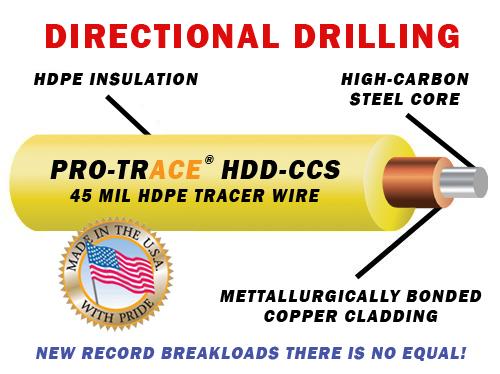 a 45 mil HDPE.
Trenchless or HDD Wire
Directional boring, also known as horizontal directional drilling (HDD), is a steerable trenchless technique for installing underground pipe while using a surface drilling rig. This method has a minimal impact on the environment. For directional boring, including pipe bursting applications, we recommend the new and improved PRO-TRACE HDD-CCS PE45 tracer wire. HDD-CCS PE45 is nearly 700% stronger than copper wire and equal in signal strength to copper wire. Only one HDD-CCS PE45 wire is required, rather than the 2-5 copper wires needed to achieve the same strength to prevent breakage. This tracer wire is durable yet offers the ideal balance between strength, brittleness, and ductility. The product provides the same corrosion resistance as copper wire, and when using one wire of 12, 10, or 8 AWG HDD-CCS significant savings are achieved, and there is also exceptional price stability.
About Linc Energy Systems
Linc Energy Systems is the national master distributor for PRO-LINE Safety Products. Visit PRO-LINE Safety Products for more information, or request a quote now.